---
J/70 Worlds & Helly Hansen
(Newport, RI)- The J/70 Class Association is pleased to announce Helly Hansen as presenting sponsor for the 2014 J/70 World Championship that will be contested
September 8
–
13, 2014
, in Newport, Rhode Island, and hosted by New York Yacht Club from its Harbour Court clubhouse. Over 100 teams – representing up to 18 countries – are expected to compete for the championship title during the inaugural world championship of this exciting new one-design class.
"We are thrilled to present the first J/70 World Championship in Newport," said Filip Francke, Helly Hansen's VP/General Manager Sport and Workwear-US. "Sailing has been a part of our cultural fiber since Norwegian sea captain Helly Juell Hansen created the first supple waterproof fabrics for his crew in 1877. As we re-launch in the USA with a revitalized Helly Hansen sailing line, new community and racing partnerships, and outstanding development programs, we're excited to showcase our long-term commitment throughout the event in front of a strong international field of teams and supporters, and a great location and host venue."
With nearly 600 boats sailing in 20 countries in the first 24 months since its introduction, the J/70 is the most popular new keelboat introduced since the J/24 in 1977. Approved for "International" status in November 2013, by the International Sailing Federation, the J/70 Class is now authorized to conduct continental and world championship events. Known for its appeal to a wide age range of sailors, the J/70 is capable of reaching 20+ knots and is normally sailed by a crew of three to four.   For 
more information about the J/70 World Championship presented by Helly Hansen
---
CORK Week Preview
(Cork, Ireland)- The first Cork Week took place off Cork Harbour in 1978. From small beginnings with just over 50 boats, the event prospered through the enthusiastic endeavors of volunteer club members.  It was during 1985 that John McWilliam, Grattan Roberts, Joxer O'Brien and Donald McClement (the "Gang of Four") who each had vast experience of Offshore Racing and World Championship Events realized that sailing was being taken over by the so-called "Rock Stars." Owners were beginning to complain that they could no longer compete against their friends as the "Arms Race" had well and truly begun.  Cork's "Gang of Four" came up with an idea that became the basis of what is now the ISAF Amateur/ Pro classification system today; resulting in classes that were "Corinthian" in nature and other's that were "open".  As a result, the Cork Sailing Week has grown ever since; this year's event takes place from 
July 5th to 11th
.
In keeping with tradition, the J's are out in force for this year's regatta with 15 of 92 boats participating- about 16.0% of the fleet, the largest brand by far in Ireland's tour'de'force in offshore handicap racing. Topping the fleet is Richard Fawcett's J/120 JAMEERAH sailing in IRC 2 Division.  
There is a powerful group of 105s and 109s in IRC 3 Division, many of whom are familiar faces in the Irish offshore community. Some of the more prominent J/109 crews sailing are Peter Donlop's MOJITO, Paul Barrington's JALAPENO, Ian Nagle & Paul O'Malley's JELLY BABY, David Lean's JEEPSTER, John Maybury's JOKER 2, John Collins's JET STREAM, Pat Kelly's STORM, Liam Shanahan's RUTH and Chris Moore's POWDER MONKEY.  The lone stranger in this tribe is Phil Bourke's J/105 JET DREAM.
Topping out IRC 4 Division is Ronan Fenton's J/35c SKY HUNTER, followed by Pat Beckett's J/92 JOSTLER and the J/24s ANT'OILEANACH (Dave Lane) and JELIGNITE (Ryan Finbarr).  For 
more Cork Week sailing information
---
CAN-AM Regatta Update
J/88 One-Design Fleet Start!
(Youngstown, NY)- There is no question that J/88s have begun to quicken the heartbeat of many sailors who enjoy the versatility of an easy-to-sail dinghy with the attributes of a keelboat that can simply blast offshore and can be trailered to any event they wish!
For the upcoming Can-Am Regatta at Youngstown from July 26 to 
27
, there are now FIVE J/88s sailing and it looks like it may become the "de facto" J/88 Great Lakes Championships with the addition of a few other Great Lakes boats! Come one, come all to join the fun in one of the best places to sail in western New York!
In addition, there are one-design fleets of J/22s, J/70s, J/24s, J/80s, and J/27s.  For more information about this fantastic new regatta organized by Don Finkle and colleagues in Youngstown, please be sure to contact Don @ cell# 
716-695-4328
 or email- 
don@rcryachts.com
---
Pacific Cup Preview
(San Francisco, CA)- The Pacific Cup Yacht Club (PCYC) has announced starting dates and divisions for the 2014 race from San Francisco Bay to Kaneohe, Hawaii. Sixty boats are currently entered in the 18th edition of the "Fun Race to Hawaii."  Running every even year since 1980, the Pacific Cup has taken hundreds of boats and thousands of sailors the 2,070nm from San Francisco to Oahu.
Richmond YC has collaborated with the Pacific Cup YC to be the Start Line Race Headquarters of the 2014 Pacific Cup and invites all competitors and their families to the first-ever "Pacific Cup Village." The Village establishes a San Francisco Bay venue for Pac Cup racers to gather and have fun as well as an opportunity to get useful information and assistance with any last minute preparations.  Kaneohe YC, the Pac Cup's destination and Finish Line Race Headquarters, has always provided exceptional hospitality and entertainment at the end of the race— the arrival "Mai-Tais" are worth the trip almost by themselves!
Richmond YC is located in Point Richmond; a sunny location on foggy San Francisco Bay sometimes called "the Richmond Riviera." The Village will use RYC's clubhouse and harbor facilities with their spectacular views of San Francisco across the water and colorful sunsets.  A "tent village" will house the Village's concierge services, supplement the Club's entertainment facilities, and provide additional space for competitors, friends and family to take a break or check out race sponsors like Alaska Airlines and Sonnen BMW.  Enjoying all the pre-start festivities as well as looking forward to post-race festivities after a sunny, fast, windy race are a half-dozen J/Teams from across the West Coast.  54 keelboats are sailing this year's Pacific Cup, including six J/Teams (11.0% of the fleet). Interestingly, the top three brands all have six boats sailing (Cal, J/Boats & Santa Cruz).  The Cruising Division starts 
Sunday, July 6th
; three Divisions start 
Tuesday, July 8th
; and most boats finish around the 
Friday, July 18th
 time frame- 10-13 days from the start.
Sailing in the Weems & Plath PHRF Division B, starting at 1130 hrs on 
July 8th
 is the J/105 FREE BOWL OF SOUP, hailing from the Corinthian YC Portland, OR. Her crew is Eric Hopper skipper with crew of Eric Albertson, Scott Davey, Keith Sheets, and Doug Schenk as Navigator.  If you recall, this is the same intrepid crew that tackled the fabulously windy Oregon Offshore Race and won their class by a zillion miles.  Let's hope their extraordinary downwind skills exhibited in that race translate into 2,070nm of smokin' hot, trail-blazing speed.
In PHRF C Division, the J/109 BLUE CRUSH skippered by Eric Devaney from the Cortez Racing Association in San Diego, CA is heading up a "family affair". Their crew is largely the Devaney family (Will, Yong, Ken and Eric) with Scott Prysi as a watch captain!
In the PHRF Double-Handed Division is Bob Johnston's J/92 RAGTIME from Richmond YC, with crew Tracy Rodgers, both from the San Francisco Bay area.  They will be up against the J/120 SHEARWATER sailed by Justin & Christina Wolfe from Seattle, WA.  Johnston's RAGTIME has been one of the most successful single and double-handed boats on all of San Francisco Bay for over a decade; their favorite being, of course, the infamous "Three Bridge Fiasco".
Then, the SONNEN BMW Division D ORR fleet will be featuring the battle of the J/125s.  Greg Slyngstad's J/125 HAMACHI from Corinthian YC Seattle will go up against Tom Garnier's J/125 REINRAG 2 from Los Angeles YC.  Neither team is holding back, both with championship winning crews and, in the case of REINRAG 2, a previous Transpac Race class winner.  Slyngstad's HAMACHI crew consists of mostly Seattle sailors like Jonathan McKee (an Olympic Gold Medallist), Peter "Fritz" Johnson, Fritz Lanzinger, Mike Leslie and long-time San Francisco friend Trevor Baylis as Navigator.  Garnier's REINRAG 2 crew is also a "family affair", with Lashawna, Darren,
& Kevin Garnier joining the crew along with Jared Lathrop.  For 
more Pacific Cup sailing information
---
Vic-Maui Race Preview
(Victoria, British Columbia, Canada)- Co-hosted by the Royal Vancouver Yacht Club and the Lahaina Yacht Club, the Vic-Maui International Yacht Race, the pinnacle of Pacific Northwest ocean racing, covers a distance on the rhumbline of 2,308 nautical miles.  The Vic-Maui race was first contested in 1965 and has been sailed every two years since 1968.  The start venue is Victoria, BC, on Canada's West Coast, where pre-start preparations are completed in the picturesque Inner Harbour.  
The fleet starts just outside the harbour, sails out of the Strait of Juan de Fuca, leaves Cape Flattery on Washington's Olympic Peninsula to port, and heads across the Northeast Pacific Ocean.  Boats aim to sail around the North Pacific High and into the Trade Winds for the sub-tropical run to Hawaii.  Days and nights at sea pass with sightings of whales, dolphins and albatross, under spectacular sunrises, sunsets, and brilliant starry nights.  The finish venue is Lahaina, Maui, the former royal capital of the Hawaiian Islands.  As each boat crosses the finish line, the boat and crew are warmly welcomed in the Hawaiian tradition, after which the crew, family and friends enjoy a stay on Maui and attend a festive awards banquet.
Similar to the Pacific Cup, the starting date range for the fleets is from 
July 3rd to 7th
 (last are the big boats and multihulls).  Most boats are expected to finish by July 22nd to 
23rd
.
The lone J/Team in the race is John McPhail's J/160 JAM from Gig Harbor Yacht Club on Fox Island, WA.  JAM is a veteran of 14 Swiftsures, two Pacific Cups and the 2004 Vic-Maui race. The likelihood that she may be a "first to finish" in the keelboat division is pretty good.  In the last edition in 2012, the J/145 DOUBLE TAKE was first to finish— will JAM match that accomplishment?  Time will tell.  For 
more Vic-Maui Race sailing information
---
J/27 North Americans Announcement
(Oakville, Ontario, Canada)- The J/27 North Americans will be hosted once again this year by the Oakville Yacht Squadron, on Lake Ontario on 
August 8th to 10th
.  As of June 28th, 14 boats are registered, and there is promise to reach 20.
This is a very special event for the J/27 fleet as it commemorates 30 years since the introduction of the J/27.  The fleet will be comprised of local boats from Oakville and surrounding Lake Ontario clubs, Buffalo, Boston, Maryland, Lake Huron, Georgian Bay and Lake Simcoe.  A heartfelt "thank you" to Andrew Reim, Lake Ontario Fleet Captain for his continuing efforts to bring this great event together, which is now in its third year.  
Please be sure to contact Dirk Sell at email- 
dsell@rogers.com
 for more J/27 North Americans registration, logistics and other stuff you need to go sailing in Oakville, Ontario.  For 
more J/27 North Americans sailing information
---
J/Sailing News
The Sun Never Sets on J's Sailing Worldwide
The last week of June was a busy one around the world for both one-design and handicap classes.  Starting with Europe, the stylishly famous Giraglia Rolex Cup series held off Monte Carlo, Monaco and St Tropez, France had excellent racing over the triad of events that compromise the "cup"- the San Remo to St Tropez race, the Inshore Series held in the Bay of St Tropez and the finale- the Giraglia Rock race that finished in Monte Carlo, Monaco.  A fleet of J/111s, J/122s, J/109s, J/97 and a J/133 had some great performances.  Up north in Sweden, a duo of J/111s took on the top double-handed racers in Scandinavia and showed them how it's done in the Bohusracet- a long 170nm double-handed race that has over 200 competitors- one of the largest in Europe, if not the world.  Also, on the Baltic Sea, the J/24s were enjoying a highly competitive regatta at Kieler Woche with 38 boats participating.  

Over to the east in Asia, new J/70s were recently commissioned at a ceremony held by the Qingdao Maritime Academy, the first of the new McConaghy Boats J/70s for Asia- Pacific Rim markets.  After a champagne celebration, the sailors hopped aboard and had a fine afternoon of sailing their new speedsters.  Also, the first of the new Red Dragon Boats J/80s were inspected and shipped to South Korea for the 2014 Asian Games.

Across the Pacific basin to the east, both the Long Beach YC and the Alamitos Bay YC enjoyed a nice sunny weekend of light winds for their fun-loving Long Beach Race Week.  One-design fleets of J/24, J/70, J/109, J/120 had spirited, close competition and PHRF handicap racing for J/111s, J/124s, J/80s, and J/35 were equally as enjoyable.  Over in the Great Lakes, an enormous fleet of J's sailed the Queen's Cup Race from Milwaukee, WI straight across Lake Michigan to Muskegon, MI.  Then, even further east the "even year" Block Island Race Week had over 50% of the fleet represented by various J/Teams (J/111s, J/105s, J/109s, J/29s) sailing in the three handicap fleets.

Read on! The J/Community and Cruising section below has many entertaining stories and news about J/Sailors as well as cruising blogs about those who continue to enjoy the Caribbean and the South Pacific, staying warm while others are trying to stay warm up north.  Check them out!  More importantly, if you have more J/Regatta News, please email it or upload onto our J/Boats Facebook page!  Below are the summaries.
---
Regatta & Show Schedules:
Jun 28- Round Ireland Race- Wicklow, Ireland
Jul 3- Vic-Maui Race- Victoria, BC
Jul 5-11– CORK Week- Cork, Ireland
Jul 6- Pacific Cup Race- San Francisco, CA
Jul 11-13– Bacardi Newport Regatta- Newport, RI
Jul 12- Bayview Mackinac Race- Port Huron, MI
Jul 12-13– Fiesta Cup- Santa Barbara, CA
Jul 12- Lake Ontario 300 Challenge- Mississauga, Ontario
Jul 14-20– J/70 North Americans- Rochester, NY
Jul 15-19– J/109 North Americans- Newport, RI
Jul 18-20– Screwpile Lighthouse Challenge- Solomons Island, MD
Jul 19-22– Chicago Mackinac Race- Chicago, IL
Jul 23-26– J-Cup Regatta- Hamble, England
Jul 24-27– J/111 North Americans- Harbor Springs, MI
Jul 24-27– Marblehead NOOD Regatta- Marblehead, MA
Jul 26-27– Can-Am Challenge Regatta- Youngtown, NY
Aug 2-9– Cowes Week- Cowes, England
Aug 2-5– J/111 Europeans- Cowes, England
Aug 4-9– Copa del Rey- Palma Mallorca, Spain
Aug 8-10– J/27 North Americans- Oakville, Ontario
Aug 9-15– J/24 Europeans- Angelholm, Sweden
Aug 14-17– Chester Race Week- Chester, Nova Scotia
Aug 14-17
– Penobscot Bay Rendezvous- Rockland, Maine
Aug 19-24– J/111 World Championship- Royal Yacht Squadron- Cowes, England
Aug 21-24– J/35 North Americans- Muskegon, MI
Aug 22-24– J/24 USA Nationals- Beverly YC- Marion, MA
Aug 28-31– Pornic J/80 Cup- Pornic, France
Sep 8-13– J/70 World Championship- New York YC- Newport, RI

For additional J/Regatta and Event dates in your region, please refer to the on-line J/Sailing Calendar.
---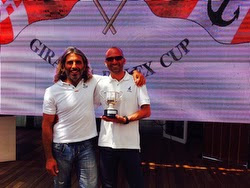 J/111 STORMs Giraglia Rolex Race!
J/109 JET LAG Takes IRC-B Overall!
(St Tropez, France)- This past week, a large fleet of top European offshore teams racing in IRC, ORC took part in the 62nd Giraglia Rolex Cup, an annual international rendezvous that regularly attracts over 200 yachts for a week of competition. It is more than simply a sailing event, exhibiting spirited and fair-minded competition, genuine camaraderie among the participants and sublime locations. Sailors are drawn from all corners of the world and all segments of the sport to take part in what has become one of the "must-do" events of the yacht-racing year. This year's event was marked by a momentous event, finishing the Giraglia Rolex offshore race in Monte Carlo, Monaco.
The decision to finish the race in Monte-Carlo was made in the spirit of this great Mediterranean occasion. It is the Yacht Club Italiano's contribution towards the inauguration of the stunning new clubhouse of its twin club, the Yacht Club de Monaco, which has been designed by the world-renowned architect Lord Foster and was opening its doors for the first time during the final days of the Giraglia Rolex Cup.
The Giraglia Rolex Cup is classic adventure that takes place over a week, from 13 to 21 June. Following a prologue race from Sanremo (13 June) the fleet gathered in Saint-Tropez for three days of inshore competition (15 – 17 June) before embarking on a 241-nautical mile offshore race (starting 18 June) to Monte-Carlo, via the Giraglia, the rocky outcrop off the northern tip of Corsica. Organized by the Yacht Club Italiano in conjunction with the Société Nautique de Saint-Tropez, the Yacht Club de France, the Yacht Club Sanremo and, this year, the Yacht Club de Monaco, Rolex has been involved since 1998 and has been integral to the regatta's continued growth in stature.
In addition to honoring the celebration of YC Monaco's new clubhouse, it also marked the debut of the Double-Handed Division in the Giraglia Rolex Offshore Race.  A grand armada of 206 yachts set off on the offshore race under a sky awash with low cloud and a sea caressed by a warm, but gentle easterly breeze. With so many boats on the water, the start of the 241-nm Mediterranean classic offered a spectacular panorama to those watching from both Saint-Tropez and the northern shore of the gulf.  Taking it all in and looking forward to the challenge was Massimo Colosimo, owner of the J/111 J-STORM, and crew Maurizio Dotti that were taking part in the Double-Handed Division.  Here's Massimo's commentary on the race:
"The start took place off the lovely harbor of Saint Tropez under a dark and cloudy sky, sailing in light 8 kts westerly breeze.  The Double-handed division took off to windward to the first weather mark in order to split-up the huge fleet crossing the Tyrrhenian Sea.  
After rounding the weather mark, the next course was straight to Corsica.  At this time, the breeze increased and J-STORM hoisted their biggest Gennaker (the A2 asymmetric) and started flying downwind to the next mark- the Giraglia Rock just in front of the wild Cape Corso.
J-STORMS's average speed was in the range of 15 kts, easy-to-handle by the two crew- Maurizio & myself. J-STORM  was easily overtaking most of the biggest IRC and ORC boats that had their start an hour and a half earlier!
While approaching the Giraglia Rock, the breeze dropped a little but before nightfall, J-STORM was in the middle of all the big boats and was poised to win her class, if not the entire race overall.
By early morning the wind increased and backed, producing big chop on top of the swells.  It was not exactly the best point of sail for a double-handed crew.  Nevertheless, with no crew sitting on the windward rail, Maurizio and I managed to sail quite fast, paying attention all the time to the best heel angle and closely watching their tactics with their competitors. It was a long 90nm upwind leg to the finish off Monte Carlo, Monaco.  The finish off Monaco can often be difficult because the high bluffs and mountains of the coastline often kill the seabreeze.  J-STORM faired incredibly well, holding the west/southwest position on rhumbline for most of the course, arriving in Monaco still in the offshore breeze and making an average speed of 7.5 kts.  Quite an accomplishment for a 36 footer double-handed in a long offshore race."
Perhaps the most startling achievement is that it was the first time Massimo and Maurizio sailed their J/111 J-STORM in a double-handed race, easily beating some of the most famous professional ocean sailors such as Pietro D'Ali and Dede de Luca (both trans-Atlantic single-handed champion sailors), plus several good French Teams.  Bravo! Congratulations, "job well done" to both Massimo and Maurizio!
The other J/Teams in the event also had awesome performances.  In the Giraglia San Remo to St Tropez Race, sixty-six boats sailed and the J/109 JET LAG sailed by Richard Burton took first overall against a super-hot fleet of IRC racers.  They were followed by Igor Raspopov's J/109 M.A.R.C. I in 19th overall and Viktor Zhakharov's J/122 NOISY OYSTER in 22nd, Paolo Rossini's J/105 ANDA YA in 24th and Eugeni Nikiforou's J/111 MERLIN in 28th.  
For the Giraglia Inshore Series, the IRC A class had fifty-eight entries and Laurent Charmy's J/111 SL ENERGIES GROUPE FASTWAVE took 7th in class and the J/133 JIVARO sailed by Yves Grosjean took 15th. In the IRC B class, the J/teams faired quite well.  After their successful regatta debut in the San Remo- St Tropez race, Richard Burton's crew on the J/109 JET LAG continued their winning ways, taking third in class, just one point out of second!  Fourth was Patrick Gouedart's J/109 JEDI and tenth in class was Pascale Barbier's J/97 NO LIMIT.
The Giraglia Rock race had several impressive performances in addition to the Double-handed win by the J/111 J-STORM.  Taking 5th overall in IRC was the J/111 SL ENERGIES GROUPE FASTWAVE sailed by Laurent Charmy.  Also sailing an excellent race was Giancarlo Ghislanzoni's J/133 CHESTRESS 3, taking 9th IRC overall. Finally, Richard Burton's J/109 JET LAG took 13th overall.
In fact, it was Richard Burton's combination of strong offshore performances and a dominating "inshore series" in his J/109 JET LAG that enabled them to be crowned by HRH Prince Albert of Monaco as the Giraglia Rolex Cup IRC B Series champion!  They managed to beat the "crème-de-la-crème" of the Mediterranean offshore fraternity from France, Monaco and Italy sailing A35s, X34s, First 36.7s, Grand Soleil 40s, X35s and Elan 410s.   
Sailing photo credits- Rolex/ Carlo Borlenghi
   For 
more Giraglia Race sailing information
---
Ullman's J/70 Wins Long Beach Race Week
J/109 ELECTRA, J/120 CC RIDER, J/24 3 BIG DOGS Class Winners
(Long Beach, CA)- The 35th version of the West's largest keelboat regatta, Ullman Sails Long Beach Race Week, was staged by neighboring Long Beach YC and Alamitos Bay YC, and despite the absence of the familiar white-capped race courses and breeze below the usual level the competition was quite lively.  With many one-design classes and a number of offshore classes, the event provided a mix of sailing that is unique in the SoCal region.  While one-designs were be doing the standard windward-leewards, the offshore boats had a choice of "random-leg" courses or basic buoy-racing.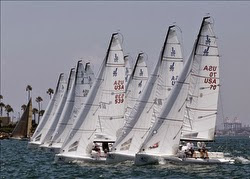 For the J/70s, it was their debut in LBRW and it was also their West Coast Championships, a World's qualifier for the top four boats.  In the end, it was long-time class veteran David Ullman (and also regatta sponsor) who ran off with the top spot with five 1sts a 2nd and 3rd.  Said Dave, "the wind wasn't big but it was good enough to sail. It was quite shifty, but we were always sailing."  Explaining his secret for doing so well in the event against other top teams, Dave said, "I've been sailing these boats for a year and a half, more than any of these people here. It makes a difference. Unlike many world one-design classes, the 70s are easy to sail with your wife and kids and limit hiking."
Sailing his best J/70 regatta so far was Santa Barbara YC's Scott Deardorff, sailing a very consistent series in the top four to take second place with 26 pts.  Sailing with Scott for the series was San Diego J/24 veteran Chris Snow.  Taking third was Newport Harbor YC's Tom Garrett on SLOOP JOHN B with 31 pts.  Fourth, was John Fuller's BLISS and fifth was Bennet Greenwald's veteran team on PERSEVERANCE.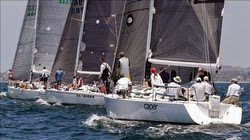 The always competitive J/120 class had a half-dozen very strong teams from both the San Diego and Los Angeles area fleets.  As expected, the racing was amongst the closest of any of the one-design fleets sailing in Long Beach, just three points separating the top four boats after seven races!  Closing with a final 1st place, Chuck Nichols and crew on CC RIDER won with just 17 pts, two pts clear of the next three boats (who were essentially in a three-way tie).  By taking 2nd in the final race, Gary Winton's SHENANIGANS crew took the tie-breaker over John Laun's CAPER, both tied at 19 pts each.  Just shy of grabbing a spot on the podium was John Snook's JIM, closing with a 1-3 for a total of 20 pts.  Fifth was Peter Bretschger's ADIOS with 32 pts.
Like a bolt of lightning, Tom Brott's very capable Santa Barbara YC crew on the J/109 ELECTRA took class honors in their half-dozen boat class with three 1sts, two 2nds and two 3rds for 13 pts total.  Second to fifth was nearly a four-way tie, much like their J/120 colleagues.  It was Heinz Butner's RAPTOR that took second with 22 pts sailing an equally strong regatta as ELECTRA, save for the fact they had to absorb an SCP penalty in the first race.  Third to fifth were only two points in arrears!  Winning the tie-breaker for third was Bryce Benjamin's PERSISTENCE over John Shulze's LINSTAR, a 23 pts each.  Fifth was Chris Mewes's SHADOWFAX with 25 pts. 
With the proverbial "bull in a china shop" amongst them, the J/24s probably knew they were in for a fight for the top of the podium with a past J/24 North American and Pacific Coast Champion sailing in the fleet.  Indeed, it was a nearly a "runaway" for Pat Toole and friends from Santa Barbara YC sailing on their beloved 3 BIG DOGS- winning quite easily with three straight bullets in the first three races to walk away with the title.  The next four places in the top five were decided by just 5 pts!  Second was Mike Johnson's PEARL with 20 pts, followed by Tom Tunberg's Santa Barbara YC team on BULLET with 21 pts, then fourth was Dave Klatt's Ventura YC team on JADED with 23 pts and in fifth was past regatta winner Susan Taylor from California YC on her renowned TAKE FIVE with 25 pts.
In the world of PHRF handicap racing, there were J's sailing both random leg as well as close-course windward-leewards.  In PHRF-SB2 (sports boat class) the J/80 AVET sailed by Curt Johnson from California YC won with an amazing 1-1-1-2-1-2-1 scoreline for 9 pts total, handily beating the Olson 30s, Open 5.7s and others in their class.  Mark Hunter's J/80 IN-APPROPRIATE took 4th.  
In PHRF-A, the two J/111s and the two J/124s had spirited competition amongst them over the three days of light air southerlies of 6-10 kts.  Taking the bronze by winning the final race was Tim Harmon's J/124 CIRRUS from Alamitos Bay YC; they took the tie-breaker over Glenn Griley's J/111 STAMPEDE from Kings Harbor YC also on 30 pts.  In sixth was Bill Webster & Mike Moorhead's J/111 JATO from Kings Harbor YC at 39 pts.
PHRF-B class was simply a runaway.  By winning the first six races, Dave Boatner's J/35 RIVAL simply smoked their class with 8 pts total.    
Sailing photo credits- Dave McBride/ LBYC
   For 
more Long Beach Race Week sailing information
---
J/111 Eclipses Bohusracet Double-Handed!
(Bohuslan, Sweden)- Fresh from the class win in the Norwegian Færder Race, the J/111 BLUR immediately transformed into double-handed mode.  The Pantaenius Bohusracet is a 170nm dash through the wonderful archipelago of Bohuslän on the Swedish West coat. It attracts almost 200 boats and has quickly become one of the world's largest double-handed races.  Moreover, it's not hard to understand why!  Here's the report from Peter Gustafsson, BLUR's skipper:
"Intense racing for 24-30 hours with lot's of navigation, close battles with other boats and some delicate navigation to find the shortest route among thousands of islands and rocks— that's the Bohusracet. This takes place in the light of the midsummer night, making it one of the best sailing experiences anywhere.
Actually, when I bought the J/111 I had this race in mind. Lot's of light winds and many maneuvers that favor a nimble boat that is easy-to-handle with just two on board. But, with the occasional breezy downwind run where a boat that could plane off-wind would breakaway from the fleet. Beefing up the sail inventory with a Code 0 and an oversized A2 "whomper" should make the J/111 into the perfect "archipelago racer" (skerry cruiser meets sport boat).
Friday afternoon, the smaller boats started first. Almost no wind and very fluky conditions promised a challenging first leg inside the big island of Orust. At 
4PM
 we at last got away in the fastest class. We lined up against everything from some Farr 30s, the always well sailed Xp 38s and the Arcona 410 who came second to us in Færder Race. Fighting for line honors was an X-50 and some X-46s. Lot's of talent and well prepared boats.
The first 6 hours became an upwind challenge in 0-14 knots, with major 30-degree shifts. But since it's a narrow strait, the fleet stayed together and tacked every 5 to 10 minutes trying to get the most of every puff. The Farr 30 got away before the X-50 and the Arcona. Then we managed to hang in there and stay in touch.
Around 
10PM
 the shift towards east came and we rolled out the Code 0- what a weapon to have in the arsenal! Doing 6-7 knots in just 6 knots of wind as the sun sets is a fantastic feeling, and now we started to reel in the boats ahead. After 
midnight
, we rounded outside of Marstrand and with the big A2 we were screaming along, passing both the Farr and the Arcona.
Wonderful sailing where the helmsman drove to the spinnaker as the other guy got an hour of sleep. We know that would pay off during day 2.
As the sun came up we headed north through all the small islands in the archipelago, checking off the famous fishing villages and small towns; Smögen, Fjällbacka, Grebbestad, Strömstad.  What usually lasts for a 5 week cruise is done in 24 hours.
We alternated between A2 and Code 0 and worked our way to the Northern mark- Trestenerne in Norway. For every checkpoint, we advanced a little and when we turned south we were just 15 minutes behind the leading boat. We knew that we had the proper boat and sails to get the most out of the final 50 miles, but it would require some serious work.
We went from jib to A5, to Code 0, to A5 and to Code 0 again. We kept on working hard to get 100% out of the boat. At the next checkpoint, we were just 3 minutes behind the Arcona on corrected. And then 5 minutes ahead! Wow! This was awesome!
We finished second on the water, just an hour after the well sailed X-50 after 25 hours of sailing, and won the class before a HP1030 and the Arcona 410.
When we got the J/111, we knew that it would take time and hard work to get up to speed. It's a demanding, but rewarding, boat. There have been times where I wished I'd stayed with the J/109. But after winning both Færder Race and Bohusracet, I can clearly see the pattern: it took us three years to master the 109, and now we are getting there with the 111. It's a great feeling when all that hard work pays off!!"  Congratulations from the J/Team to Peter Gustafsson and crew!   For 
more J/111 BLUR sailing information
---
WICKED, HUSTLER Top Ticket @ Block Island
(Block Island, RI)- The even year Block Island Race Week, running from June 23rd to 27th, is an exciting event for racers who love competing in a week long series in Block Island Sound in the years between the Storm Trysail Club's biennial event.  This year's modest event saw J/Teams occupying over 50% of the registrants with several boats sailing in the event for their first time.  In fact, it marked the debut of the new J/88 family-friendly offshore speedster.  Teams were sailing in both IRC and PHRF handicap divisions.
In the IRC world, the J/109 RUSH skippered by Bill Sweetser too 3rd place, losing a tie-breaker for 2nd and were just 2 pts out of first.  In fact, the last race determined the final standings since RUSH was in first after the 10th race and their 11th race 5th place, unfortunately, was their throwout!  The J/109 SHEARWATER with Hugh McLean driving took 6th overall.
In the PHRF 1 Division, taking 1st was Doug Curtiss's J/111 WICKED 2.0  counting six 1sts in their 11 race scorecard for a total of just 17 pts.  Third was the J/88 DEVIATION sailed by Iris Vogel, winning the last race and losing 2nd by just one point.  Sedgwick Ward's J/111 BRAVO took 5th in class and John Forster's J/92 SALTIRE took 6th.
As many had anticipated, the PHRF 2 Division was dominated by one boat— yes, just one boat.  Believe it or not. First was the outrageously successful J/29 HUSTLER (John &  Tony Esposito and Neil Caruso) nearly running the table with nine 1sts in eleven races sailed for a total of 11 pts.  Second was Tom Sutton's J/35 LEADING EDGE with 18 pts and scoring nearly as many 2nd places as HUSTLER had for 1sts!  Fourth was Aleksander Tichter's J/29 AKLUA with 37 pts, just missing out on a spot on the podium by one point.
For 
more Block Island Race Week sailing information
---
J/24 Kiel Week Ends With Tie-breaker!
Schonfeldt Triumphs Over Feuerherdt
(Kiel, Germany)- This year's J/24 fleet in Kiel Week had one of its best showings in recent years with 38 teams in attendance sailing from June 21st to June 24th.  After sailing five races the top two teams ended up in a tie-breaker at 31 pts each.  In the end, it was Frank Schonfeldt's team (Nicklas Feuerstein, Finn Moller, Till Kruger & Thorsten Sperl) from Mühlenberger Segel-Club that was determined to be the winner after countbacks on 1sts, 2nds and 3rds.  Losing the tie-break was Tobias Feuerherdt's crew (Jan-Marc Ulrich, Wolle Panuschka, Tobias Peters & Justus Kellner) from Blankeneser Segel Club.
Crossing the Atlantic and sailing for Rochester YC was the American Mike Ingham, sailing fast in a chartered boat to take third overall. His international crew consisted of Marianne Schoke from Sweden and three Germans- Max Holzer, Scott Ikle & Klaus Walkusch.
Perhaps the "Cinderella story" of the event was the remarkable performance of one of Germany's top women J/24 teams.  Having worked hard over the years and attended many of the top European J/24 regattas, it was clear all the efforts and training paid off in this year's Kiel Week for Stephanie Kopcke and crew from Mühlenberger Segel-Club.  Taking 4th overall, Stephanie's team of Silke Hahlbrock, Ann-Katrin Brugge, Amelie Panuschka, Nele-Marie Bock and Insa Lindauer sailed a beautiful series over the three day event; it was their first top five finish in such a major J/24 event.
Rounding out the top five was Jan Kahler and team (Olaf Zietz, Roland Bohm and Ole Harder) from Altonaer Segel-Club.   For 
more J/24 Kiel Week sailing information
---
J/70 Qingdao Update
(Qingdao, China)- The J/70 fleet is starting to grow well in the Asia-Pacific Rim with activity developing in China and Australia.  The advent of McConaghy Boats, a renowned Australian sailboat builder, as the Asia-Pacific builder for the J/70 is beginning to have an impact in the marketplace, with many new owners excited to get their boats sailing for this summer.  Here's an update report from Jim Johnstone, the J/Boats Asia dealer based in China:
"It's always a pleasure to go sailing with the new owners in their new boats.  The J/70 is no exception.  With 4 days of sailing the first two J/70's in Qingdao this past weekend, we got the opportunity to work with the Qingdao Maritime School practicing on their new J/70 and do some two boat testing and training.
First impressions of a new boat in the water are always important.  The J/70 impresses in many ways.  The lift keel is quite easy to use.  The amount of space down below is impressive for the overall size of the boat and the cockpit is very easy to maneuver in.  I had the opportunity to sail around the boat by myself one afternoon and found that setting the spinnaker solo and retrieving it was quite easy.  With the spinnaker halyard mounted on the mast with a swivel cam, it made hoisting the halyard and releasing it much easier.  The spinnaker design is also a huge bonus with a much more high aspect ratio sail the jibes are a piece of cake. The only thing you need to consider is that the jibing angles are a little greater in lighter air since the boat tends to want to sail higher angles to obtain better VMG's.  
With the first boat in the water for about a week without bottom paint on the keel or rudder I felt it was the perfect time to try to scrub the bottom without getting wet.  Wow, this was easy!!  First, we lifted the keel with the keel crane.  The main halyard is quite long on the J/70.  By securing just the very end to the cleat on the mast and taking the main halyard around the spreaders, out on the dock and around to the other finger dock, I just tied it off.  Then I released the dock lines and tied them at the very end of the line.  Went back over to the main halyard on the other finger dock and pulled it with one wrap around the cleat.  The boat slowly slid into the middle of the finger piers and when the dock lines became tight, I leaned into the halyard enough to give the boat about a 10 degree heel.  Then I just walked over to the bow and stern lines and pulled the boat over close to the dock.  As I pulled the boat healed over more.  With about a 30 degree heel and the boat right up close to the dock I had full access to the bottom of the boat to scrub the bottom and keel!  After I was done I repeated this on the other side.  This took 1 person about 15 minutes to do both sides without getting wet.  When I was pulling the dock lines to really heel the boat over the overall load on the dock lines was not that great.  One arm could hold this. It could not be any easier to clean the bottom of the J/70! It's wonderful to have this option of scrubbing the bottom and not getting wet. 🙂
I have been to many launching ceremonies before, but the Qingdao Maritime Collage had everyone out for this launching with champagne, Maritime students standing at attention, sailors ready and the cruise ship attendants in blue that also study at the schools.  After the ceremony, the President of the school and the sailors all went sailing in the two J/70's. We look forward to deliver a few more to the Qingdao Maritime College soon!"
---
J/130s Crowned Queen's Cup Champs
(Milwaukee, WI)- With a steady SSE winds of 10-15 kts, this year's Queen's Cup sailors had a pleasant, easy 67nm crossing of Lake Michigan.  The 76th annual edition, hosted by South Shore YC had 149 entries for the annual sprint from Milwaukee, WI on the western shore of the lake across to Muskegon, MI on the eastern shore.  
The Queen's Cup is one of the most renowned offshore races on the Great Lakes, drawing plenty of tricked-out rockets with the latest carbon fiber sails and go-fast gizmos. For those who cruise with a barbecue on the stern and the wine rack well-stocked with primo Pinot, it's also an unforgettable way to start an annual cruising vacation.
The Queen's Cup Race always delivers a great party at both ends, while also focusing on being a family-friendly event. Many boats will have multiple generations within their crew. The camaraderie, above all, keeps racers coming back year after year— especially fun-loving J/sailors from around Lake Michigan.
PHRF 2 Division saw J's sweep the top two spots with Doug Petter's J/130 WILLIE J winning by over 6 minutes corrected time over Bob McManus's J/130 EDGE.  Sixth in class was Mitch Padnos's J/122 SUFFICIENT REASON.
The J/111's basically had a match-race across the entire lake with Tom Roop's KASHMIR leading Richard Hobbs's HOBGOBLIN home, both finishing 7th and 8th, respectively, in PHRF 3 Division.  The two boats finished nearly overlapped, just seven seconds separating them at the finish line!
J/Teams dominated the top five in PHRF 4 division with Bill Stellin's J/42 JAYWALKER taking second, followed by Larry Taunt's J/35 BAD DOG in third, Dave Timmer's J/35 HAT TRICK in fourth, and Doug Evans's J/109 TIME OUT in fifth.
In PHRF 5 division, Dorothy Mietz's J/105 LATIS from South Shore YC took the bronze on the podium.  In fact, she sailed fast enough to be every boat except one on handicap time in the PHRF 4 division ahead of her!  Sweet!
The J/30 FRANK LLOYD STARBOARD skippered by Dennis Dryer managed a  12 hr 13 min crossing to take fifth on handicap in PHRF 8 division.
Finally, in the PHRF Double-Handed division, the trio of J/105s dominated the top five, with Tom Cairns's BEDAZZLED taking second with Vanessa Gates's STRIKING finishing third and Mike Hettel's GLOBAL NOMADS placing fourth.   
Queen's Cup Facebook sailing page
   For 
more Queen's Cup sailing information
.
---
J/80 Asian Games Update
(Pusan, South Korea)- The 2014 Asian Games are being hosted by South Korea this coming September.  It's an enormous event where thousands of athletes from across Asia participate in track & field events as well as in yachting.  The yachting portion of the games includes dinghies, catamarans as well as keelboats.  The J/80 was again chosen as the principal one-design keelboat for the Asian Games.  Jim Johnstone from J/Boats Asia reports on the J/80s and the South Korean National Team:
"I just finished doing the final inspection of the first J/80's that will be heading to Korea for the Asian Games this September.  There are six boats on order that will ship in July.  Production at Red Dragon in Xiamen, China is going quite well at the moment and the overall quality of the boats is excellent.
I was only in Korea for one day of training with the Korean National sailing team.  The team consists of ten of their top sailors, most of them are very experienced 470 class veterans.  On-the-water practice was short but it was helpful to go out and discuss weight movement, penalty turns upwind and downwind, spinnaker setting techniques, boat preparation and preventative maintenance. Overall the team was pleased with the training program and they hope to practice hard in the coming months before the event.  We then went off to have an excellent Korean-style meeting with the head of the Club, Andy Ra (J/Boats Dealer in Korea) and the sailing team.  I wish them all luck in the upcoming Asian Games and they are all very excited to see and start sailing the new J/80's.  I'll be attending the event in September and will give a sailing update then."
---
J/Community
What friends, alumni and crew of J/Boats are doing worldwide
———–
* J/111 BLUR sailing videos update-  Peter Gustafsson
continues to output some awesome sailing videos of his J/111 BLUR racing in both double-handed as well as fully-crewed races in Scandinavian waters.  Here's a recent one of them sailing the double-handed "Seapilot Two-star 2014".  As described by Peter, "the shorthanded race from this weekend. Averaged 12.7 knots over 25 minutes and topped 18 with just the helmsman on deck. Great ride."
Watch the 
Seapilot Two-Star 2014 sailing video here
:
http://www.youtube.com/watch?v=U6f3N1_aUd0
The sun starting to drop at 
10:30 pm
 during Bohusracet. The Bohusracet is Sweden's largest Doublehanded race with almost 200 boats starting. 170 miles of sailing through the beautiful archipelago of Bohuslän on the Swedish West coast. Starting Friday with 40 miles inshore, continuing through the night offshore and during sunrise going inshore again before finishing 
Saturday
 night keeps you awake and constantly concentrated.
Tactics, strategy, serious navigation and constant competition during thirty hours make this one of the greatest races you can find on earth.  Here is 
J/111 BLUR's "Bohusracet 2014" sailing video:
http://www.youtube.com/watch?v=DLEX7kSePBU
For those of you that missed this 
epic video flying along at 20+ kts in the Faerder Race off Oslo, Norway, here's their YouTube sailing video summary
:
http://www.youtube.com/watch?v=MvHYjasRTGY#t=33
For the 140nm delivery of the 
two J/111's DACAPO and BLUR to Oslo for the Faerder Race,
 both boats sailed in tandem in their self-proclaimed "
J/111 Marstrand Oslo Challenge"
– some great sailing video here:  
http://www.youtube.com/watch?v=nzFPmwG7OkY
And, earlier in the summer, they also competed in the 
GVA Marstrand Big Boat Race
, here's Peter's YouTube sailing video of that experience:
http://www.youtube.com/watch?v=eZfBjZp7VkU
Finally, here was a 
recap of the 2013 J/111 BLUR sailing season
. Some clips from their season with the J/111 and some other boats. J/70 test, J/111 training at Marstrand (sailing +20 knots), Marstrand Big Boat Race, Bohusracet, J/88 test in Newport, Hermanö Runt, Tjörn Runt, and J/111 solo practice.
http://www.youtube.com/watch?v=tkHNic5v3PU
* J/70s Germany & Europe Growing!
 We received a nice
report from Jurgen Waldheim in Berlin, Germany
– "In Germany we had a wonderful Kieler Woche until yesterday. 12 entries and a couple of world champions in the J 70 class. Boats from Sweden, the Netherlands and Germany fought under very tricky conditions. Short  waves, wind up to 32 knots and yesterday –the last day- 2 races up to only 6 knots.
The winner is the 
current 505 World Champion- Class Lehman from Germany
, second was Wouter Kollmann from the Netherlands and third Michael Ilgenstein from Germany.  The 
World Champion of the X99 Class, Christian  Soyka, finished fourth.
In 2015, we will try to have a common  Calendar and  Ranking List together with the Netherlands.
We all talked a lot to many sailors of other classes. My impression is that there are really many sailors who have a look to our class and they are waiting to see how we develop. We have to show up whenever we have time. It is not easy to establish a new class, especially in Europe. But, we are much farther along than the J/80 was 12-15 years ago. Sweden already has 20 boats! Denmark has created a "Sailing League" with the J/70 and the Danish Sailmaker and famous sailor Bojsen-Möller is already testing his J/70 sails and will introduce them to the market in autumn.  We look forward to also having the Great Britain J/70s join us for the big J/70 regattas in Europe— hopefully, J/70 Europeans on Lake Garda!"
* The Etchells 22 Worlds saw top one-design J/Teams and sailors aboard all of top five boats and most of top fifteen!
  As reported by Bob Johnstone (President of MJM Yachts and J/Boats co-founder), "We came in after the start of the 2nd and final race of the Etchells 22 Worlds in Newport this past 
Saturday
.  It turns out the winners did the same thing. We caught up with them off the famous Castle Hill Light.  Bill Hardesty and crew Taylor Canfield,  Marcus Eagan, Stephanie Roble were aboard their boat LINE HONORS.  Bill's wife, Mandi Markee, hopped aboard after the race and steered them in.  Of note, the Hardesty's are proud J/70 owners that they race at home in San Diego, California and Marcus Eagan was a member of the 2013 J/22 World Championship crew, also sailed here in Newport! Taylor Canfield has years of J/24-IC24 experience in the US Virgin Islands and Steph Roble has raced J/22s, J/24s, J/70s and J/80s extensively in the past dozen years."
While the winning Etchells 22 World Champion was loaded with J/sailor talent, the rest of the top fifteen in the fleet was, too.  
J/24 World Champ, Chris Larson, was in the runner-up boat as tactician for Ante Razmilovic's SWEDISH BLUE team from Hong Kong.
Marvin Beckmann finished third on THE MARTIAN and has sailed J/22s and J/24s extensively out of Houston, Texas.  
Fourth place Senet and Clay Bischoff on KGB from Coral Reef YC in their youth were often found sailing local J/24s on Biscayne Bay.  
Eighth place Phil Lotz sailing ARETHUSA from Newport, RI and Eric Doyle from Marblehead, MA both have experienced racing J/24s and J/105s in the northeast over time.  In fact, Eric is spending a lot of time recently sailing J/70s competitively in Marblehead, MA.
Ninth place Shannon Bush's LA TORMENTA and Curt Oetking from Texas Corinthian YC in Texas both have extensive J/22 and J/24 sailing in their local Texas circuits.
Tenth place, Jim Cunningham and his LIFTED crew of Jeff Madrigali, Mark Ivey and Bryn Bachman between them have sailed extensively on a range of J/22s, J/24s, J/70s and J/105s.
Eleventh place Scott Kaufman's AMERICAN JANE 11 had Justin Law aboard, recently sailing J/70s in Key West and the winter J/70 circuit.
Twelfth place Jeff Siegal on APPRECIATION had an all-star cast of J/24 and J/70 champions, including Tim Healy, Willem Van Waay and Sarah Callahan.
Fourteenth place Peter Duncan on RAGING ROOSTER has sailed J/24s and, recently, J/70s quite extensively, as have his crew Tom Blackwell and Jud Smith (himself an Etchells 22 World Champion).
Fifteenth place Gary Gilbert on ANNIE had Mark Mendelblatt on board- not only a Tufts Jumbo All-American but also has extensive experience on J/22s and J/24s since college days in Boston.
In other words, having cut their teeth and honed their skills as one-design sailors in the larger fleets of J/22s, J/24s and J/70s, virtually all of these top racers have been able to translate that experience into other one-design classes and succeed.  However, there has yet to be a top sailor from another one-design keelboat class that has "reversed" that process and quickly succeeded at the top level in any J/Class.  In fact, other known top sailors that have "grown-up" in other leading sportboat/ keelboat classes have yet to crack the top ten in any major J/class event in their first year.  Get a "J" one-design, learn faster, and better!
---
J/Cruising Community
J Cruisers continue their adventures around the world, below are a selection of most excellent "blogs" written by their prolific publishers.  Some terribly amusing anecdotes and pearls of wisdom are contained in their blogs. Read some! You'll love it.
* Jim & Heather Wilson just completed a circumnavigation of our "blue planet Earth" in June 2013 on their J/42 CEOL MOR
.  Said Jim, "The odyssey of CEOL MOR is over, for now.  We completed our circumnavigation on our J/42 when we crossed our outbound track in Britannia Bay, Mustique. We were, however, still 2,000 nautical miles from home. So we continued on through the Windwards, the Leewards, and then through the British Virgin Islands. After a farewell 'Painkiller' at the Soggy Dollar, and a last meal at Foxy's, we made the 1,275 nautical mile passage to the Chesapeake and completed our port-to-port circumnavigation when we arrived in Annapolis on June 28, 2013. We had been away 1,334 days, completed 259 days of ocean passages, and sailed 30,349 nautical miles (34,925 statute miles). Read more about their adventures in their  well-documented blog here:  
http://www.svceolmor.com/SVCeolMor/Welcome.html
* J/160 AVATAR headed for the Caribbean, again!
  We LOVE these updates from our cruising J sailors that continue to criss-cross the Seven Seas. This one comes from 
Alan Fougere, sailing his beloved J/160 AVATAR.
   Alan sent us an email update commenting on their passage south this winter, "In mid-December AVATAR completed her sixth transit to her winter Caribbean home, Grand Cruz Bay, St. John, USVI (seen above)  from her home port in Quissett (Falmouth), MA.  A crew of three, Captain Alan (e.g. me), Crew Pablo Brissett and Mark Conroy, covered the 1,500 nm trip in in her best time to date- 7 Days 5 Hours, averaging 8.7 kts, that's about 208 nm per day!  Amazing passage it was!  Rainbow at right far offshore was some of the amazing phenomenon we experienced on this fast offshore passage.
AVATAR will participate in the BVI Sailing Festival/Regatta again in 2013, where last year she won the Nanny Key Cup Cruising Class race around the Island of Virgin Gorda.  Here are some photos for you to share with the J/Community at-large.  Enjoy!"
Best, Alan Fougere/ AVATAR
* Bill & Judy Stellin 
recently had an interview about cruising on their J/42 in the 
Wall St Journal called "Retiring on the Open Sea"
.  The Wall St Journal asked Bill to reply to dozens of questions that flooded into the WSJ's Editor desks. Here's the update:
Retiring on the Sea: Answering Readers' Questions
Advice about selecting a boat, ocean crossings, itineraries and safety
The article in our WSJ Online December retirement report about eight years spent sailing the Mediterranean— "Retiring to the Open Sea"— prompted many questions and comments from readers.  We asked William Stellin, who wrote the story, to answer some of the most common queries.
WSJ-
 "What kind and make of boat did you use? Looking back, would you have picked a different boat?"
Bill-
 "In 1995-96, J/Boats of Newport, RI, came out with a new cruiser/racer model, the J/42. We bought hull No. 6 of this popular 42-foot sailboat and named it JAYWALKER. This was our fourth boat since beginning sailing in 1975.
Although long-distance cruising wasn't what we had in mind when we purchased JAYWALKER, it soon became apparent it had the ability to carry us easily and safely anywhere we wanted to go. Because the boat is light, it sails well in light winds, which means very little motoring is necessary.
People often ask (and argue) about what boat is best for cruising. Any boat that is strong, safe, fast, comfortable and easily handled by two people should fit the bill. One thing for sure, fast is fun—and important when trying to avoid bad weather."  
READ MORE ABOUT BILL'S INSIGHTFUL COMMENTARY AND THOUGHTS ON WSJ ONLINE HERE
* The 
J/42 JARANA
 continues their epic voyage around the Pacific. Continue to read about 
Bill and Kathy Cuffel's
 big adventure cruising the South Pacific headed for New Zealand.  Their blog is here:
http://www.svjarana.blogspot.com/
* 
John and Mary Driver
 are sailing their 
J/130 SHAZAM
 for extended cruising in the Atlantic basin. At this time, John and Mary finished their double-handed crossing of the Atlantic, landing in Portugal on their J/130 Shazam after completion of their ARC Rally. Read the latest news at
http://www.sailblogs.com/member/shazam/
.
* 
Several J/160 owners are island hopping
 across the world's oceans, fulfilling life long dreams to cruise the Pacific islands, the Caribbean islands, the Indian Ocean and all points in between.  Anyone for Cape Horn and penguins??  Read more about their adventures and escapades (like our J/109 GAIA, J/42s PAX and JAYWALKER and J/130 SHAZAM friends above).
–  Bill and Susan Grun on the J/160 AVANTE
 are also sailing in the Pacific archipelago, read more about their great adventures on their blog (
http://web.me.com/susangrun
).
  Read about their latest adventures as they've gotten to New Zealand- "Avante Cruises the Pacific".
–
 Eric and Jenn on the J/160 MANDALAY
 also sailed the Pacific archipelago, read more on their blog at 
http://www.sailmandalay.com
.  Eric and Jenn are J/World alumni took MANDALAY up and down the West Coast (Mexico, CA), then to the South Pacific and New Zealand.  MANDALAY is back in San Francisco now, and in the J/World fleet–she is available for skippered charters, private instruction, and corporate/executive groups.